Exhibitions and Publications
This season, the Fruitlands Museums Giftshop in Harvard, Massachusetts will continue to offer a selection of notecards, limited edition prints and original watercolors by Barry. When you visit Fruitlands, make sure to stop by the Giftshop and see these offerings!
Following is a list of Barry's exhibitions and publications (watch this page for updates). To receive announcements of future exhibitions by mail, send an e-mail to barryvandusen4@gmail.com Be sure to include your full name and mailing address.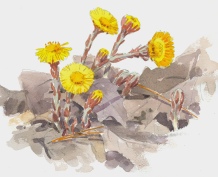 Barry was Artist-in-Residence at Fruitlands during the 2010 season.
Van Dusen named Woodson 2014 Master Artist, Wausau, Wisconsin
Barry Van Dusen, the Woodson Art Museum's 34th Master Artist, received the Master Wildlife Artist Medal during the "Birds in Art" opening weekend, September 6 and 7, 2014. In announcing the 2014 Master, director Kathy Kelsey Foley said, "We are delighted to honor Barry Van Dusen and acknowledge his exceptional artwork. Barry's watercolors are remarkably luminous and sensitive, which is due in part to his preference for working in the field, a long-standing tradition among artists who look to nature for subject matter."
"The chain of Woodson Masters is forged by a common passion for birds and art," Barry said. "I am honored to be a part of it!" The 2014 "Birds in Art" exhibition featured more than 100 original paintings, sculptures, and graphics created by artists from throughout the world. A special "mini-retrospective" of Barry's paintings was featured at the 2014 show. The exhibition's full-color catalogue, with an essay about Van Dusen, is available for purchase at the Woodson Art Museum. For more information, visit www.lywam.org, e-mail the Museum at museum@lywam.org, or call 715-845-7010.
New Book by Barry Van Dusen with a foreword by John Hanson Mitchell
FINDING SANCTUARY An Artist Explores the Nature of Mass Audubon


2021 Exhibition at Fruitlands Museums, Harvard, MA
NATURAL REMEDIES an artist celebrates the healing power of nature
Barry's exhibition at the Fruitlands Museum Wayside Gallery (Harvard, Massachusetts), closed on December 5, 2021. NATURAL REMEDIES featured over forty original watercolors. One group of paintings - the "Lockdown Suite" - featured subjects observed within five miles of my studio in Princeton, Massachusetts. Other pictures in the show were painted during a statewide residency project with Mass Audubon, and are featured in my book Finding Sanctuary. These pictures celebrate the healing power of nature in uncertain and stressful times. Wherever you live, nature can provide inspiration and comfort!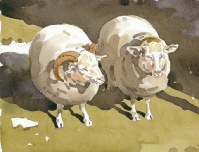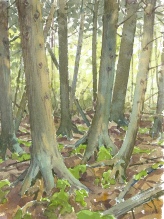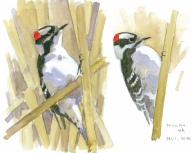 Over the course of four-and-a-half years, nature artist Barry Van Dusen visited all 61 of Mass Audubon's public wildlife sanctuaries, nature centers, and museums, producing drawings and paintings at each location. In this book you'll find many paintings of Barry's favorite subject—birds—along with landscapes, flowers and plants, butterflies, dragonflies, mammals, salamanders, turtles, frogs, and fish.
Follow Barry's travels and share in his adventures—from the islands of Martha's Vineyard and Nantucket to the mountain peaks of the Berkshires. You'll read about hatching turtles on Cape Cod, rare orchids in the Connecticut River Valley, and a bear encounter in a western Massachusetts forest.
Drawing and painting from direct observation is an essential part of Barry's artistic practice, and you'll find many drawings from his field sketchbooks in these pages. In an introductory chapter, Barry shares the challenges and rewards of documenting nature first-hand, and describes how he uses his field sketches to develop more complex works back in the studio.
Birders, naturalists, conservationists, gardeners, artists, art appreciators, and all outdoor folks will find "sanctuary" in these pages.
192 pages, 8 ½ x 10 ½"
33 full-page color + 215 color + 108 b/w illus
The Second Printing of FINDING SANCTUARY is now complete and more books are available!
You may purchase a copy from Mass Audubon, here:
Or, if you would like a signed copy, contact Barry directly here:
barryvandusen4@gmail.com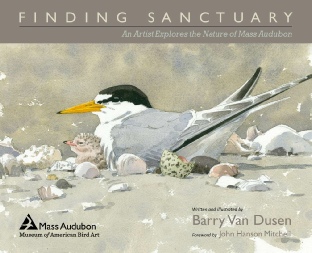 5th BIRDS OF AMERICA Exhibition at Francesca Anderson Fine Art, Lexington, MA - April 20 thru June 12, 2022 Barry will be contributing paintings to this group exhibition, with an opening reception on April 30, 3-5pm. Visit www.fafineart.com or call 781-862-0660.