This season, the Fruitlands Museums Giftshop in Harvard, Massachusetts will continue to offer a selection of notecards, limited edition prints and original watercolors by Barry. When you visit Fruitlands, make sure to stop by the Giftshop and see these offerings!
Following is a list of Barry's current or upcoming exhibitions (watch this page for updates). To receive announcements of future exhibitions by mail, send an e-mail to barryvandusen4@gmail.com Be sure to include your full name and mailing address.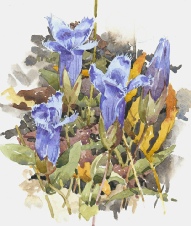 Barry was Artist-in-Residence at Fruitlands during the 2010 season.
Van Dusen named Woodson 2014 Master Artist, Wausau, Wisconsin
Barry Van Dusen, the Woodson Art Museum's 34th Master Artist, received the Master Wildlife Artist Medal during the "Birds in Art" opening weekend, September 6 and 7, 2014. In announcing the 2014 Master, director Kathy Kelsey Foley said, "We are delighted to honor Barry Van Dusen and acknowledge his exceptional artwork. Barry's watercolors are remarkably luminous and sensitive, which is due in part to his preference for working in the field, a long-standing tradition among artists who look to nature for subject matter."
"The chain of Woodson Masters is forged by a common passion for birds and art," Barry said. "I am honored to be a part of it!" The 2014 "Birds in Art" exhibition featured more than 100 original paintings, sculptures, and graphics created by artists from throughout the world. A special "mini-retrospective" of Barry's paintings was featured at the 2014 show. The exhibition's full-color catalogue, with an essay about Van Dusen, is available for purchase at the Woodson Art Museum. For more information, visit www.lywam.org, e-mail the Museum at museum@lywam.org, or call 715-845-7010.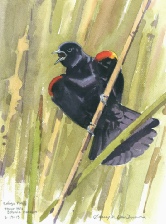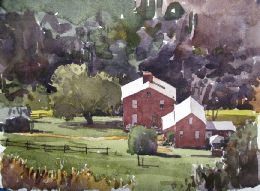 IN A NATURAL STATE: Barry Van Dusen Paints the Nature of Mass Audubon
Barry Van Dusen is the Museum of American Bird Art's latest Artist-in-Residence. Over the last three years, Barry has been traveling across the state, visiting Mass Audubon's 57 wildlife sanctuaries, chronicling the rich and diverse landscapes, habitats, and wildlife found on Mass Audubon's properties. You can see his drawings and paintings and read about his travels by checking out the Museum of American Bird Art's Taking Flight blog.
The premier exhibition of Barry's residency work was on display at The Museum of American Bird Art from May - September, 2017. Starting in October 2017, a selection of Barry's residency work will go on tour to Mass Audubon locations around the state. Here are the venues currently scheduled for the tour: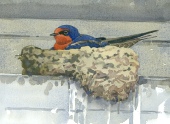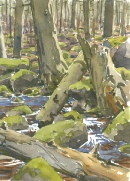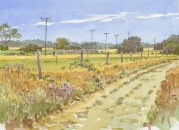 Barn Swallow at Allens Pond, Dartmouth, MA May 28, 2016
Rutland Brook, Petersham, MA
April 27, 2016
View Toward Fox Hill, Daniel Webster,
Marshfield, MA July 12, 2016
Past Exhibition: THE NATURE OF TOWER HILL: an Artist's Year in the Garden
From April 2013 through April 2014, artist Barry Van Dusen visited Tower Hill Botanic Garden 23 times, producing more than 40 watercolor paintings of flowers, birds, insects and landscapes. Barry's exhibition led visitors through a full year at Tower Hill, and he shared his experiences with diary-style labels that accompanied each painting.
"Being the Tower Hill 2013 Artist-in-Residence has been an honor and a privilege, not to mention an enormous amount of fun! There was so much to see and paint each time I visited the Garden, and things were constantly changing. In my year of working there, I feel I just scratched the surface!" -Barry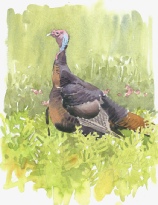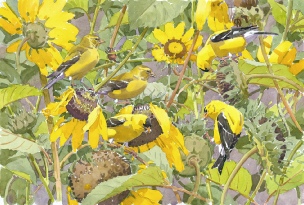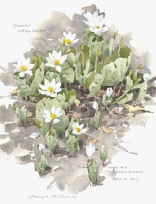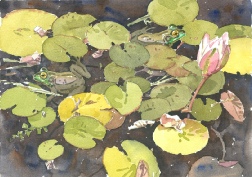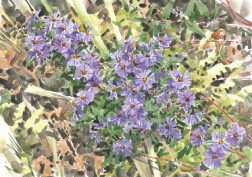 Clockwise from top left:
Bloodroot, Cottage Garden, w/c, 12" x 9"; Summer Gold, Youth Gardens (print), 13" x 17.5"; Wild Turkey, Fuller Drive, w/c, 15" x 11"; New England Aster, Refuge Pond, w/c, 10" x 14"; Frogs and Lilies, Secret Garden, w/c, 9" x 12"
September 15 - November 30, 2019 Joppa Flats Education Center, Newburyport
September 1 - October 31, 2018 Broadmoor, Natick

Diamondback Terrapin Hatchlings, Wellfleet Bay, S. Wellfleet, MA
August 19, 2016
April 27, 2016