forgotten forests project
In late May and early June, 2003, Barry joined eight other international wildlife artists on a fund-raising project sponsored by the Artist for Nature Foundation and Bosques sin Fronteras to northwest Peru and southwest Ecuador. During the three week project, the artists sketched and painted the diverse and unique wildlife that occurs in the region.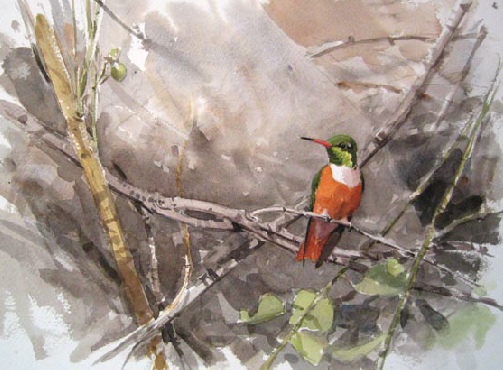 Amazilia Hummingbird Chaparri Reserve, Peru June 2, 2003 watercolor, 11" x 14"
The Tumbesian region, divided equally between Ecuador and Peru, is an area of Pacific Equatorial Seasonally Dry Forests in the foothills of the Andes. The area is home to 80 endemic bird species, nine endemic mammal species and many plants, insects, reptiles and amphibians found nowhere else in the world.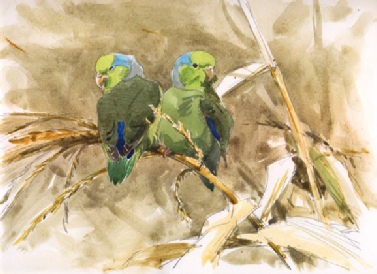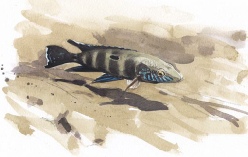 Pacific Parrotlet Pair watercolor, 9 x 12"
Cichlid Study watercolor, 8" x 11"
The artwork created during the project is showcased in a lavish full-color book entitled TREASURES of the Forgotten Forest published by The Wildlife Art Gallery (see link below). Profits generated by the book, as well as proceeds from a series of exhibitions, will be used for conservation initiatives in the Tumbesian region.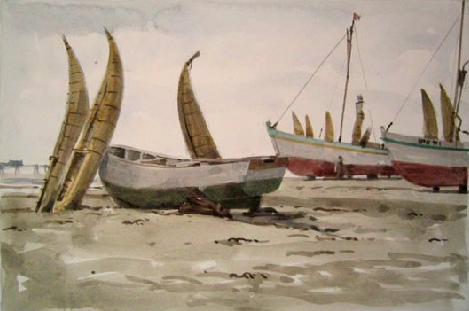 Reed Boats, Pimentel
May 27, 2003
Watercolor, 10" x 13"
for more information about Artists for Nature Foundation and Bosques sin Fronteras, visit these websites:
http://www.artistsfornature.com
http://www.bosquessinfronteras.org
www.wildlifeartgallery.com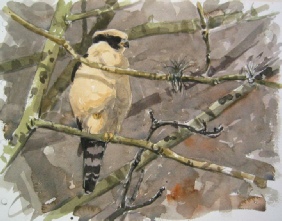 Laughing Falcon in Ceibo Tree - La Ceiba Reserve, Ecuador June 9, 2003
watercolor, 11 x 14"