In early March 2009, Barry traveled to Israel with an international group of nature artists on a project organized by the Artist for Nature Foundation. The project's focus was the Hula Valley in northeastern Israel - an internationally important migratory stopover for birds. White Storks, Common Cranes, White Pelicans and a variety of raptors were moving through the valley in huge numbers during the artist's visit.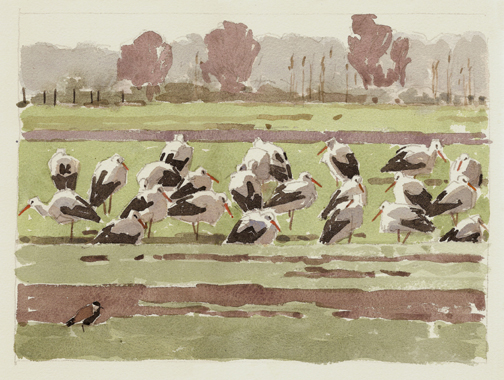 The Hula and Agamon Lakes are parts of a large wetland restoration project designed to reconstruct the ancient Hula marshes, which were drained for agriculture in the 1930s causing widespread pollution, erosion and loss of wildlife habitat. Thanks to the restoration project, initiated in the 1990s, the marshes are once again teeming with wildlife and eco tourists.
Storks at Dawn
Agamon Lake Reserve
watercolor, 10.75" x 13.75"
Owl Box and Stonechat Agamon Lake Reserve watercolor,
11.75" x 16"
A wide variety of smaller birds can also be found in the valley, some resident, others in migration. Barry and the other artists painted and drew sunbirds, chats, shrikes, larks, kingfishers and plovers during their visit.
Palestine Sunbird in Judas Tree, watercolor,
13" x 10.75"
Female Stonechat, watercolor, 10.75" x 13 .25"
The artists also visited and worked in areas surrounding the Hula Valley, including the mountains to the north and west, and the Golan Heights, which border the valley to the east. Everywhere, wildflowers were in abundance, and added color and variety to the landscape.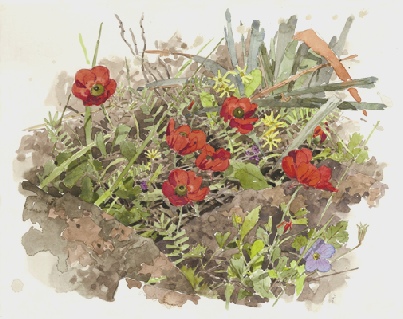 For this project, ANF teamed up with The Society for the Protection of Nature in Israel (SPNI). Artist from around the world took part in the effort, and their work will be used in a variety of ways to raise awareness and funds for conservation projects in the Hula Valley.
To learn more about the project, the Artists for Nature Foundation, the Hula Valley and The Society for the Protection of Nature in Israel , visit these websites:
Wildflowers on the Golan Heights, watercolor, 11" x 14"